Crud Fanzines PLC present...
THE DARKNESS
TEN BENSON


Manchester Apollo 15.12.03
(review by Neil Crud & pix by Karen McBride)
Remember those kids at school, who instead of doing all the extra curriculum activities would just try to be cool in their demin cut offs that had Saxon or Rush or Led Zep lovingly embroidered on the back of it by their mums? Punk had gone back home to the underground by 1982 & these kids were enjoying the limelight & trying to convince themselves that The Scorpions were more than a band with just good album covers & Van Halen weren't gay. The heyday didn't last long, Acieed, House, Thrash, Madchester, Shoegazing, Brit-pop, Grunge, Techno, Garage, & Punk again have all stamped heavy rock down into the grit of the Bulldog Bash, where only the hardened biker clubs & grebo pubs let their dandruff fly. The rock kid has now grown into a man but he still rues the day his cut-off was put on a hanger in his wardrobe & he was exiled to his bedroom for an eternity of air-guitaring behind closed doors. Hail the God of Rock for giving them The Darkness, I am the resurrection & I am the light, dust down the old LPs - Rock is cool again.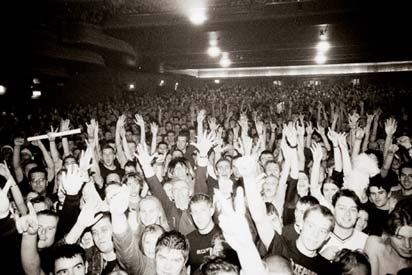 Unfortunately the God of Rock failed to foresee the problem of blessing us with The Darkness, for if you believe in the Lord you must also believe in the Devil & he can muster up some pretty nasty stuff. So Ten Benson couldnít believe their luck when The Darkness hit the top. As it has opened up the door for a plethora of denim clad pub rock bands to suddenly pretend they're fashionable. All those dour years playing their dour riffs to a dour audience in a dour bar & then Bingo! The problem is that your average punk, punter, indie kid etc will like The Darkness first for their novelty appeal, their sheer musical skill, excellent showmanship & songwriting skills. Ten Benson possess none of these & those punters will see right through it, for once you've seen the opening number, noted the matching baseball caps, cheesy salutes to the crowd, you soon realise there's little else to whet the pallet. Chugga chugga bland uninspiring rock with a crap vocalist. Get back to the sawdust on the floor type dive you twats. Fuck off.
Having fallen victim to the secure car parking scam last week in Manchester when seeing Muse, I wasn't going to become a £5 victim second time around. Secure car parking means once all the spaces are taken up, they secure the cash & piss off home to count it. Bastards. First shock of the night was Steve Sync getting the first round in unprovoked; it was a full moon yesterday so perhaps he can be excused.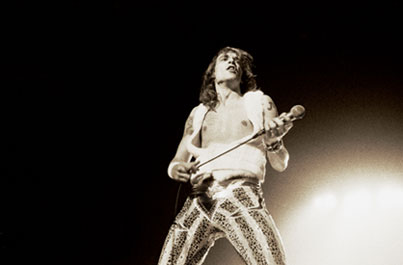 Never seen the Apollo this packed before & the anticipation was evident from the excited look on just about everyone's face. And Steve mentioned he'd not smelt this much petunia oil since a Hells Angels wedding in 1984, but it turned out to be a blend of yeast & Fatman's aftershave. The white curtain projected a silhouette of the unmistakable skinny torso of a certain Justin Hawkins belting the living daylights out of his guitar & that curtain literally came down to reveal a huge stage set up of ultra white lights, Marshall stacks & the entire stock of the local fancy dress shop. The Darkness had descended onto Manchester (for the 3rd time this year) with the cock rock instrumental Bareback opening with full on lights & explosions. And straight into Black Shuck which I think is about a wild dog that prowls the outlands of their native Lowestoft. I couldn't review this band without mentioning the costumes & Mr Hawkins went for what looked like blood smeared white pvc pants & nothing on top, & with a double ending to take in every rock cliché in the book, a quick wiggle of the hips & they're really Growing On Me, so much that even the doubting Fatman was converted by now & clapped with fervour on the final chord.
'Give me a D' requests the best frontman in rock in the last 20 years, his disciples respond loyally & accordingly. 'Give me an Arkness.'
Best Of Me is a Status Quo songbook tune lapped up with nearly 4,000 people clapping in unison & that 4,000 could've been ten times the amount had this venue been big enough. With only an hour's worth of material & some poor sods paying over £60 a ticket thru Ebay the band had to flesh it out with 12" cock-rock guitar solos etc, but it all worked well, this wasn't a gig, this was a show. And they're forgiven for throwing in Radiohead's Street Spirit in there. When we got to Get Your Hands Off My Woman Justin did manage to get everyone to scream 'Fucker' at least a dozen times before they ripped into the song. Stuck In Rut had the opening riff extended long enough for a costume change into one of those increasingly famous cat suits & yes, there is a severe novelty element to this band & its unknown how long a fickle & ever changing public will want to see it, but when the sun shines who should make hay, & The Darkness are stacking up those bales for anything a winter will throw at them. But novelty aside there is a sheer high quality of guitar playing going on here, & when Justin & his brother Dan Hawkins play a harmonised solo together & manage a 'high five' slap of the hands in the middle, you know they are good timers and great guitarists. It made me wish Engine were 15 years younger for they would be here opening up for The Darkness instead of that bollocks before.
Although it was Wednesday we all wished it was Friday Night so we could put down our needlework & gymnastics & dance the night away. So when I Believe in a Thing Called Love strummed in, everyone from the front row to the cool ones leaning against the back wall clapped in time to the song, this was a spectacle to marvel at. It was all over, but you knew there was more to come.
You canít be the most cliched rock band this side of Spinal Tap without a christmas song & we got it full throttle after a quick impromptu rendition of Last Christmas, but before we let the bells end we were treated to the hilarious but superb Givin' Up, which has almost a childrens' theme tune about it & seeing everyone swaying their aloft arms from left to right in perfect time made me chuckle, particularly when this heroin influenced song is about 'sticking that fucking shit straight into my eyes.' Before Santa hogged the stage and let it snow, we did have time for a 15 minute version of the overwhelming Love On The Rocks that gave us a send up of Queen's Radio Ga Ga thrown in, complete with the loyal audience again lapping it up with a Queen style hand clap.
Gig of the year? Probably not.
Show of the year? Probably...
This page is sponsored by
link2wales.co.uk
read about life, the universe & everything on this site
Back to the Crud Gig Review Index